Heard from us?
If you've heard from us it's likely because Credit Corp has been assigned your account from a bank, finance, telecommunications or utility company. This means that you now owe the outstanding balance to Credit Corp.
Falling behind can happen to everyone and we'd like to help you get back on track. We're Australia's largest debt buyer and collector and we're committed to working flexibly with customers to help them repay their outstanding balance.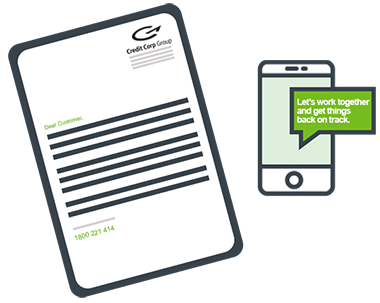 Frequently Asked Questions
Who is Credit Corp?
Credit Corp is Australia's largest debt buyer and collector. We are committed to providing sustainable financial solutions, like longer-term repayment plans, with the goal to improve our customers' financial situations.
Credit Corp is publicly listed on the ASX with an impeccable record as a sustainable and responsible service provider. We were established over 25 years ago and continuously work on refining our approach to make sure that we deliver the right outcomes for our customers.
What does it mean if I've received a Default Notice?
When an account has been overdue for more than 60 days then, subject to certain criteria and notice requirements, your credit provider can list a default on your credit file with a credit reporting agency. 
Once a default is listed, it may be more difficult to obtain credit, or may increase the costs of credit for period that it is listed. 
A default will remain on your credit file for 5 years – even when your account has been paid. 
Log in to your account and view the options available to address your debt or contact us and get back on track today.
How can I clear my account and get my credit file updated as paid ASAP?
Log in to your account to see your repayment options or alternatively you can contact us by calling 1300 303 983 or submitting one of our Contact Us forms.
Do I have a default on my credit file?
If you're not sure whether you have a default listing on your credit file you can contact a credit reporting agency.
Examples of Australian credit reporting bureaus are: Illion (formerly Dun & Bradstreet) dnb.com.au, Equifax equifax.com.au / mycreditfile.com.au and Experian experian.com.au.
You are entitled to a free copy of your credit file which you can obtain by contacting any of these bureaus and providing some basic identification details.
Where can I get a FREE copy of my credit file?
What happens if I am unable to pay my debt immediately?
Login to your account to review some of our flexible options to help you get back on track. Alternatively, you can contact us to discuss a suitable option.
There are many reasons why addressing your overdue account promptly is important. Doing so may save you interest and fees, and may positively impact your credit worthiness.
What is Credit Corp doing to help me during COVID-19?
Credit Corp is committed to supporting all of its customers during these very challenging times, and we understand that our customers may be facing increasing difficulties and uncertainties from the impact of COVID-19.
As part of that support, we wanted to let you know that Credit Corp has suspended all interest charges for a period of three months from 1 April 2020 to June 30, 2020. We hope this may bring some comfort to our many customers who may be financially impacted at this time.
If you are experiencing financial difficultly, we're here to help you. You can manage your repayment arrangement online via our self-service area. Our live chat operators are here to assist and support you. To access our self-service area, simply log in and enter your Reference Number.
We're here to help!
If you'd prefer to speak to an operator you can reach us on 1800 221 414 between the hours of 8.30am to 8pm Monday to Thursday, 8.30am to 7pm on Friday and 9am to 1pm on Saturday. (Sydney Time)
On behalf of Credit Corp, stay well and please do not hesitate to contact us where we may be able to assist.


Pay Online
Login to see your account overview, available offers or propose a payment arrangement.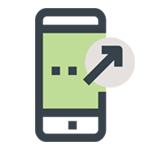 Call us
Call us on 1800 221 414 between 8am - 8pm Monday - Friday and Saturday between 9am - 1pm.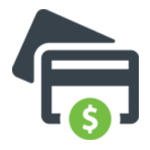 Other Payment Options
View our many options available here so you can choose the option that's most convenient to you.
Get back on track without the need to talk to us!
Credit Corp's online portal is designed to let you access important account details, view available offers and
make a payment, anywhere, anytime without the need to speak to us!
See your available offers

Propose a repayment plan

Make a payment – it's easy and secure!

View your scheduled payments

Update contact information

View your account balance
Experiencing Financial hardship?
Financial difficulty is not uncommon. We understand that many people face financial challenges for reasons beyond their control. With decades' worth of experience, we take an understanding and flexible approach.
The first step is to raise your difficulties with us. We'll then do a financial assessment by looking at your income, expenses, other credit accounts, living costs and dependents to work out a way to best help you. Contact us
Are you a Financial Counsellor?
Our Customer Experience function can assist with your clients' long term financial difficulty enquiries and work with you to achieve a mutually satisfactory outcome.
Your Feedback Matters
If you have feedback in relation to your experience with Credit Corp – we'd like to hear from you.
In the event that we haven't met your expectations, please lodge a complaint.